Spring Launch Party
What is the Spring Launch Party?
The Spring Launch Party is an opportunity for the Center for Entrepreneurship; Appalachian faculty, staff and students; and Boone community members to celebrate students who have worked all year on their business ventures.
How do we celebrate? A party of course! Complete with food, beverages, an audience, a panel of judges, student pitches, and prize money! The first-place winner walks away with $3000, second place $1500, and third place $500.
At the Spring Launch, five finalists deliver a 10-minute presentation to a panel of entrepreneur judges who provide feedback and vote on the concepts that are best prepared for launch.
Why the Spring Launch Party?
Unlike other competitions that reward good ideas, the Spring Launch Party rewards good execution. The students selected to pitch will have a vision for their business, a business model, and a financial plan. Qualifying students will have performed enough customer discovery to declare a value proposition that distinguishes their company in its industry.
When is the Spring Launch Party?
The fourth annual Spring Launch Party will be held on Monday, April 8, from 5:30 to 8 p.m. at Booneshine Brewing. Networking starts at 5:30 p.m., and the pitches start at 6 p.m. Join us and share in the inspiration from hearing students whose own compelling goals have inspired them to do the hard work of bringing a business to life. You don't want to miss the opportunity to cheer on these dedicated students as they vie for the 2024 Spring Launch Winner title!
Interested in Pitching your Business for Cash?
How far can you get in developing your business by the end of Spring 2024 Let's find out when you pitch your business model and share your plan for finding customers and earning revenue. Get started today and APPLY. Deadline for applying is Friday, March 10, 2024.
Learn more about the 2023 Spring Launch Party Sponsors
Zach and Linda Tate and the Anne Cannon Trust

The Anne Cannon Trust was established in 2004 to fund non-profit organizations in North Carolina. With the main focus on supporting North Carolina- based institutions of higher education, the Anne Cannon Trust offers financial aid in the forms of academic and travel scholarships. The Anne Cannon Trust has historically worked with North Carolina learning institutes to support the academic, cultural, and personal enrichment of students of all ages. By funding scholarships like travel abroad programs and individual academic aid, the Anne Cannon Trust enables students to take full advantage of extracurricular experiences paramount to shaping the whole student today while enhancing their competitive edge in the workforce. Wherever possible, Anne Cannon Trust partners with organizations that share the same mission of advancing students across all their educational endeavors and, wherever possible, focusing on under-represented classes. Outside of the educational scope, the Anne Cannon Trust also provides additional support for non-profit organizations focusing on health and environmental advocacy within North Carolina.
---
Abram Finkelstein, president, StaffLink Outsourcing, Inc.

Abram is the Founder and President of StaffLink Outsourcing, Inc., with over 27 years of experience in the Professional Employer Organizations (PEO) industry. He held various officer positions and served on the Board of Directors of the Florida Association of Professional Employer Organizations (FAPEO) from 1995 to 2008. Abram is also an active member of the National Association of Professional Employer Organizations (NAPEO), having served on various committees and as Chairman in 2015. In addition, he is a licensed commercial litigation attorney in Florida specializing in insurance policy litigation and employment issues.
Abram earned his Bachelor of Business Administration in Accounting from the University of Texas at Austin and his Juris Doctor, Cum Laude, from the University of Miami School of Law.
Abram is a professional corporate pilot and an active volunteer aircraft pilot, holding an Airline Transport Pilot license. He volunteers for Veterans Airlift Command, which assists wounded military veterans and their families by arranging private air travel to allow them the opportunity to heal. He also volunteers his aircraft and time to Angel Flight Southeast, which arranges private air travel for deserving individuals and families who require transportation for medical appointments.
---
Jason Goldy, president of TPG Business Planning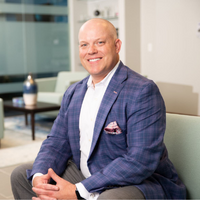 Jason is a 23-year veteran of the financial services industry with a strong passion for supporting the business community. With TPG since 2005, Jason has been a coach and consultant for financial advisors and recently launched the firm's business planning division. Jason was born in Kentucky and has been in the Charlotte region for over 30 years. He graduated from Appalachian State University with a Bachelor of Science in Business Administration. In his spare time, Jason enjoys golfing, traveling, staying active in his church, FINSECA, SFSP, and serving in the firm's Hands & Feet outreach program. He resides in Waxhaw with his college sweetheart, three kids and a rescue dog named Boone.