Carole Moore McLeod Entrepreneur Summit
On Friday, November 15, 2019, the Transportation Insight Center for Entrepreneurship hosted the 16th annual Carole Moore McLeod Entrepreneur Summit at Appalachian State University.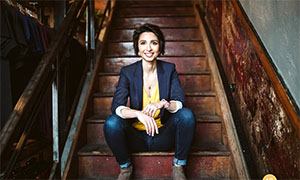 Diana Kander, serial entrepreneur, innovation coach for Fortune 1000 companies, and author of the New York Times bestseller, "All in Startup," delivered this year's keynote speech. Kander's book has been used in more than 70 colleges and universities to teach innovation and entrepreneurship. Her most recent book, "The Curiosity Muscle," was published in July 2018.
The Entrepreneur Summit was an all-day event, jam-packed with entrepreneurial insight, networking, and inspiration from top entrepreneurial minds. The finale of the day was the Big Idea Pitch! The entire event was free of charge and open to students of all majors, faculty, staff, and community members. Keep checking back for next year's Summit's Save-the-Date.
The 2019 Entrepreneur Summit in 45 Seconds