Carole Moore McLeod Entrepreneur Summit
On Friday, November 15, 2019, the Transportation Insight Center for Entrepreneurship hosted the 16th annual Carole Moore McLeod Entrepreneur Summit at Appalachian State University.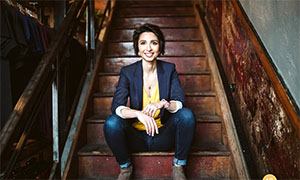 Diana Kander, serial entrepreneur, innovation coach for Fortune 1000 companies, and author of the New York Times bestseller, "All in Startup," delivered this year's keynote speech. Kander's book has been used in more than 70 colleges and universities to teach innovation and entrepreneurship. Her most recent book, "The Curiosity Muscle," was published in July 2018.
The Entrepreneur Summit was an all-day event, jam-packed with entrepreneurial insight, networking, and inspiration from top entrepreneurial minds. The finale of the day was the Big Idea Pitch! The entire event was free of charge and open to students of all majors, faculty, staff, and community members. Keep checking back for next year's Summit's Save-the-Date.
Agenda Overview
MORNING SESSION (Grandfather Mountain Ballroom, Plemmons Student Union)
9:00 a.m. Check-in, refreshments and networking
9:30 a.m. Opening Remarks and Welcome
10:00 a.m. Morning Speaker, Teresa Spangler, Founder and CEO of PlazaBridge Group
11:00 a.m. Keynote Address, Diana Kander, NY Times Bestselling Author, Keynote Speaker & Innovation Consultant
LUNCH SESSION (420 Parkway Ballroom, Plemmons Student Union)
12:30 p.m. Luncheon Speaker, Cheryl Cutlip, Founding Director of The Project Dance Foundation
ENTREPRENEURSHIP EXPO (118 Solarium, Plemmons Student Union)
2 to 3:30 p.m. Entrepreneurship Expo - Network with professionals, specialists, mentors, as well as students and faculty. The Solarium will be filled to the brim with people who can deliver the resources that entrepreneurs need to get started and keep moving.
BIG IDEA PITCH (420 Parkway Ballroom, Plemmons Student Union)
3:30 to 5:30 p.m. Big Idea Pitch - Come hear 10 amazing student pitches, enjoy some free local craft beer (for the 21+ crowd), and vote for your favorite idea!