What is the Big Idea Pitch Competition?
The Big Idea Pitch is a competition that showcases students' amazing ideas for new ventures. This competition gives Appalachian State University students the chance to take ideas out of their heads and pitch them for real money, and since the ideas come from students across any major and every student is driven by their own unique passions, the variety of ideas never disappoints.
How does the Big Idea Pitch Work?
Students submit their ideas. Next, an external panel of judges picks the most innovative 10 ideas based upon creativity, viability and scalability, and then we host a Big Idea Pitch Competition where each finalist makes a three-minute pitch to a panel of entrepreneur judges who provide feedback and vote on the most promising ideas. The judges determine a first, second and third place winner, and those students walk away with cash prizes! It's that simple.
And because we don't want the audience members to be left out, there is one additional chance for the Big Idea Pitch finalists to win some cash – an audience choice award! Even if you aren't throwing your hat into the ring to pitch an idea, come enjoy the party, listen to some great ideas, and cast your vote to help choose which fellow Mountaineer will walk the Audience Choice Award (and the prize money that comes along with it)!
When is the Big Idea Pitch?
This year's Big Idea Pitch was on Friday, November 5 at 4:30 p.m. The Big Idea Pitch competition is the finale of the Center for Entrepreneurship's annual day-long Summit. READ MORE ABOUT THE SUMMIT
Where is the Big Idea Pitch Competition held?
This year's competition was held in Parkway Ballroom in Plemmons Student Union located on the campus of Appalachian State.
Meet the 2021 Big Idea Pitch Finalists
Take some time and check out this year's top 10 finalists and the contest's winners. It was a fabulous competition. Talk about a group of judges who had a tough job!
FIRST PLACE WINNER: ARDI Threadworks - Cliff Mama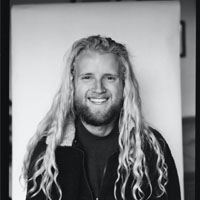 Joshua Morrow
Hometown: Asheville, North Carolina
Major: Industrial Design Student
Class: Senior
There is a flaw in the modern outdoor climbing industry. We've created a gravity-defying sport that is completely centered around human beings and the things that keep them safely off the ground, their climbing harness. After days spent climbing in the mountains with my friends, I noticed a problem, as soon as you put a harness on, your pockets become virtually inaccessible. The cliff bar you stored away in your pocket before your climb is a smushed mess, forgotten keys sting your thigh, your phone is so tight underneath fabric and safety webbing you'll never be able to take it out for a photo. That's why I present to you, the CLIFF MAMA. The cliff mama is a water bottle cargo pocket that tightly fastens to any standard-sized water bottle. Allowing you to store all your adventure's necessities in one place. Your water is already essential when adventuring, the Cliff Mama allows you to maximize this essential cargo and use it as storage for a snack, phone, wallet, or anything you'd usually put into a pocket. The Cliff Mama will go anywhere you do, be carried for a hike, hung on a harness for a climb, or casually carried to class for that extra pocket when you need it. When adventuring is on your mind there is no need to slow yourself down with extra cargo, transport your essentials with ease, using the Cliff Mama.
---
Boondock Energy Solutions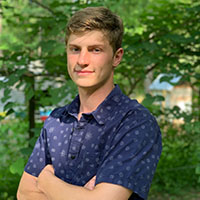 Daniel Johnson
Hometown: Chapel Hill
Major: Appropriate Technology
Class: Graduate Student
Hermes Flores
Hometown: San Pedro Sula, Honduras
Major: Sustainable Technology
Class: Senior
With the huge boom in RV sales in the past 2 years and the increasing availability of remote employment, we see a huge market for enhancing the mobile living lifestyle. Currently, the only options for solar and energy storage additions to mobile homes are very costly aftermarket systems or DIY projects taken up by electrically inclined hobbyists. With our experience in sustainable technology, we aim to fill a gap in the market by providing quality solutions with a fast turnaround, and easy mobile installation. Boondock Energy Solutions is a company that specializes in designing and installing solar and energy storage systems for RV's and mobile applications. We aim to provide energy independence so people can experience true boondocking and break away from campground dependence without sacrificing comfort and strive for a more sustainable experience with economic benefits. We offer a range of three tiers of pre-designed systems suited for low, medium, and high levels of energy usage. We stand out from our competitors by offering mobile installation and custom designs to best suit a customer's needs and budget with a special focus on quality and reliability. Unless choosing a deluxe custom system, our pre-designed systems are prefabricated and can be installed in one day. Our goal is to complete installation in under 30 days after a commitment from the customer. With one successful job already under our belt, we look forward to improving the process and building a more resilient brand.
---
Build It: Boone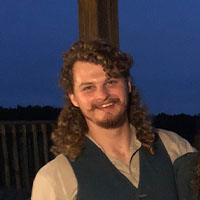 Will Indicott
Hometown: Boone, North Carolina
Major: Business Management
Class: Senior
My Business called "Build it: Boone" would serve the Town of Boone by providing a place for its DIY and creative community to use tools and machinery in an outfitted facility with knowledgeable staff for a fee. "Built it: Boone" would serve these people by providing quality tools and adequate space for people to work. We would also provide knowledgeable staff members for customer assistance and safety implementation. The beginning focus of this business would be to serve those who are hobbyists in the woodworking and automotive maintenance fields. For the wood department, we would have wood tools from drill presses to panel saws customers could do anything from ripping planks to size to building bookcases. We would also carry woodworking supplies like wood, safety gear, and stains For the Automotive department we would have auto lifts and work bays outfitted with automotive tools. Customers could do anything from changing their own oil to an engine swap. We would also carry automotive supplies like grinding discs, safety gear, and touch-up paint.

With "Build it: Boone" people could take pride in their own work without sacrificing their garage, spending money on tools, and operating tools unsafely.
---
Hot Pad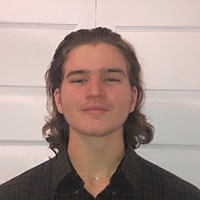 James Smith
Hometown: Pinehurst, North Carolina
Major: Marketing and Sales and Supply Chain Management
Class: Junior
Hot Pads is a windshield defroster/sun shield that can be turned on through an app and also programmed to start at certain times. The primary function of Hot Pads is to defrost the ice and frost that builds up on a car's windshield overnight. (The second bonus function is to block out the sun during the summer months!) The Hot Pad provides an easier morning experience by eliminating the need to scrape the ice off the windshield in the morning as well as preheat the car. The product is similar to a sun reflector that goes in the windshield; however, it has suction cups in all four corners and small wiring inside that when turned on, heats the windshield, and melts any frost that has formed (as well as gradually heats the car). The Hot Pad is charged through the car's USB outlets when needed. It also connects to an app on your phone that allows you to turn it on whenever needed, as well as set specific times for it to turn on automatically. For example, if somebody leaves for work at 6 am, they can set it to turn on at 5:40 every morning. As a built-in safety feature and a way to save battery, it has an automatic shut-off after 20 minutes.
---
SECOND PLACE WINNER: Hypha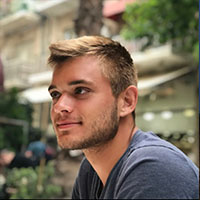 Joshua DeReienzo
Hometown: Charlotte, North Carolina
Major: Undecided
Class: Sophmore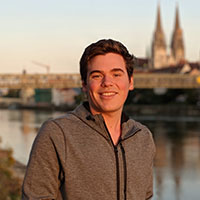 Matthias Von Feilitzsch
Hometown: Warrenton, Virginia
Major: International Business and German
Class: Sophomore
Plastic has provided us with a cheap, durable, lightweight material but with plastic waste piling up in landfills and projections predicting there will be more plastic than fish in our oceans by 2050, plastics' true price is becoming increasingly evident. So, with plastic production increasing every year what is the solution to this seemingly unsolvable problem? What if I told you the answer has been beneath your feet this whole time? Mycelium, also known as hyphae, is essentially the root system of mushrooms and is found almost everywhere there is soil. Mycelium in recent years has been revealed to have incredible potential as a replacement for single-use waste products because it is 100% organic, compostable, biodegradable, and can be sustainably, and cost-effectively grown into a variety of products using molds. Further, when it is dried, it becomes incredibly durable and resistant to water, mold, and fire. Research into mycelium is on the cusp of a breakthrough that would allow scalable production which we want to tap into. We find ourselves at the genesis of this technology and believe we are in the perfect position to become involved in this historic opportunity. The goal of our company, Hypha, is to offer the Boone community a sustainable and effective alternative to plastic and other single-use waste products. Collaborating with a researcher from Virginia Tech., our team is at the forefront of this technology with aspirations to one day become a major player in this budding industry.
---
Maki Tote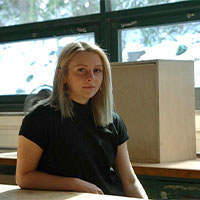 Olivia Bargoil
Hometown: Clayton, North Carolina
Major: Industrial Design
Class: Senior
The picnic has become an illustrious dream for outdoor enthusiasts and food lovers. Nothing beats grabbing some delicious food and great company to enjoy a mountainside view during those warm summer months. Upon setting up for a perfect picnic, you start to realize that dreams aren't quite like reality. Picnic baskets are heavy and outdated, not to mention the constant spills that attract insects. Quickly that perfect picnic you had planned on becomes a nightmare. That's why I created the Maki Tote, a bag that goes with you. The Maki Tote is the perfect picnicking bag. Built with two play canvas and bamboo, this bag transforms into a placemat for all of your yummy food. Simply unzip the side panels to roll out the bag revealing a sturdy bamboo placemat. This everyday market bag will leave you looking stylish and keep you ready for your next outdoor adventure. Replace your picnic basket with comfort and style. Simplify your adventure with a bag that keeps up with your busy lifestyle. With the Maki Tote you're always ready to roll out your next adventure.
---
Progner Research/Consulting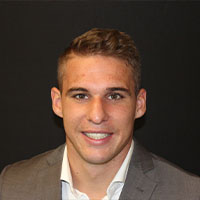 Marc Pfrogner
Hometown: Weinberg, Germany
Major: Master of Business Administration
Class: Graduate Student
Research can be very expensive and small to mid-sized businesses rarely can afford research from big market research firms. I founded Progner Research in the Fall of 2021 to make research available to small/mid-sized businesses and help improve their decision-making. Progner Research/Consulting provides world-class market research reports at a reasonable price. Our solutions are thorough, comprehensive, efficient, and trustworthy, allowing our customers to make timely data-driven decisions. We will deliver market/industry analysis, data collection, and custom research memos. We employ and supervise student researchers so the customer gets a quality product while enabling experiential education opportunities for promising young scholars. The corresponding labor cost savings are passed on to the customers. I have engaged the Economic Development Center in Wilkes County and commercial real estate firms in Boone and Blowing Rock. Long term, I will define a sharing economy research platform that will connect small and medium-sized businesses with market researchers and resources to help businesses grow, scale, and thrive.
AUDIENCE CHOICE AWARD: ReVision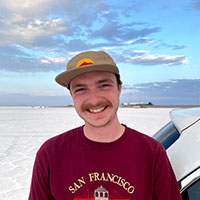 Sam Cheatham
Hometown: Asheville, North Carolina
Major: Marketing and Sales
Class: Senior
Revision is an idea for a company that will repair, reuse, and recycle glasses. Glasses are one of the most thrown away products in the United States at 4 million pairs each year. My idea is to recycle glasses frames to make an impact on the environment and to create and repair stylist, sustainable glasses. My intent is to purchase a customized glass cutter to cut new lenses and to repair and strengthen broken frames. Sheets of glass will cost less than $100 per sheet, which can create up to 80 lenses. I plan to offer a discount to customers who recycle one or more pairs of glasses, charging an average of $90 per prescription pair of recycled glasses and $50 per repair. Prescription glasses have an average cost of $200. I plan to sell entirely online rather than creating a physical store. I will collect "recycled" glasses by mail and at pickup bins and ship out all-new glasses to the homes of my customers. My target market is all people who shop for glasses online, especially those who care about sustainability. This looks like people ages 21-36 who live in the United States and need prescription eyewear. I believe that I can sell 250 pairs in the first year, for a profit of $12,000. At end of year three, I estimate that I can sell 1500 pairs, increasing profit to $60,000. My value add is to provide stylish, sustainable eyewear to everyone while reducing carbon footprint.
---
THIRD PLACE WINNER: Scrambles

Brandon Beaty
Hometown: Leland, North Carolina
Class: Junior (East Carolina University)
Major: Animation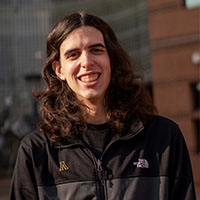 Bravin Troy
Hometown: Bolivia, North Carolina
Class: Senior
Major: Communication Studies
Scrambles is a children's picture book that lets parents and children tell their own stories. Each book has colorful pages that parents and children can swap freely to form new narratives and create fresh and imaginative experiences. Scrambles cuts down on the number of children's books parents need to purchase while also breaking the repetitiveness of having to read the same story over and over. The carefully designed pages can be easily removed and attached using magnets that come with no risk of pinching. The pages are hard but bound with a soft material to allow for flexibility and ease of use. Each page is illustrated with a unique and recognizable color theme that features a small set of prolific and identifiable characters. Several of these pages are dedicated to showing emotion or character reactions, while others display the characters interacting with various settings. Scrambles will be sold in thematic packs that explore several different settings such as a school, the supermarket, a fantasy castle, and more. Scrambles' variety will allow for parents to easily find something that their children will enjoy. Scrambles books will be sold at children's toys retailers and through online retailers. Parents will be able to share their experiences and the stories they have created with each other on a forum page of the Scrambles website. The purpose of Scrambles is to give parents and children a more interactive storytelling experience and to expand the growth that each child goes through to prepare them for school.
---
Stick-It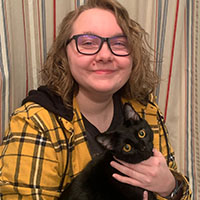 Alora Popish
Hometown: Fayetteville, North Carolina
Major: Industrial Design
Class: Senior
Kids need to get outside and play, but with the constant addition of new technology, motivating kids outdoors can be a bit of a struggle. That is why I developed a product that motivates kids of all ages to be excited about playing outside. Currently, outdoor toys are often too large and expensive, a handful to figure out, or a one-and-done event. What makes my product better than what is already out there? It is non-gendered and age-less for anyone to enjoy. It is open-ended yet easy to understand. It is made to last and accompanied by a drawstring bag for easy storage and carrying. Building capability is limited only by your imagination and the sticks you have in your backyard. Yes, you heard me right. Sticks! One of the most timeless toys out there, yet somehow always overlooked. Luckily Stick-It is happy to help bring sticks into the spotlight—or should I say sunlight. 3D printed from a flexible material; the stick-it can accommodate sticks up to one-inch diameter and is flexible enough to bend at any angle for optimum building. Collect your sticks. Attach one end of the stick inside one side of the stick-it. Squeeze the edges to pinch the stick. Wrap the Velcro strap snuggly around the stick-it until your stick is tightly in place. Repeat on the other side, and voilà you're building! Forts, obstacle courses, magic wands, daring swords, it is all at your fingertips! So what will you create with Stick-It?
---