For the second consecutive year, Appalachian State University students have competed and won in the Early Stage Competition during the Enactus United States National Exposition.
The students are members of Enactus Appalachian, the university's student chapter of Enactus, a global nonprofit that provides a platform to create community development projects that put people's own ingenuity and talents at the center of improving their livelihoods.
The Early Stage Competition recognizes teams with projects in the early stages of development and judges students on their efforts to define a need, pursue entrepreneurial leadership, work towards positive impact, focus on long-term sustainability, and effectively communicate their project.
The students presented their C6 Appalachian project through a video and a question and answer session with corporate sponsors. C6 Appalachian aims to repurpose single-use plastic into sustainable products that provide a practical purpose.
Watch the Enactus Appalachian early-stage competition video about C6 Appalachian
"The work we have been able to do this year has been phenomenal," said Eva Jane Buhrman, president for Enactus Appalachian. "I am extremely proud of this team for the effort they put into this year's competition, but even more proud of the difference that we have made in our community!"
The leaders count both their competition success and the plastic waste reduction among their many successes this year, which they say also include expanding the organization outside their home college of the Walker College of Business.
"This year we brought a plethora of new perspectives to our team," said Vice President of Membership Hannah Ross. "We increased our membership by 150% and welcomed a diversity of majors outside the Walker College, including social work, sustainable development, criminal justice, political science, digital photography and global studies."
Ross said that students participated in business-oriented events they may not have otherwise, including professional development programs on resume building and interviewing, which were hosted by the Walker College's Business Career Services.
The Enactus students will now go on to showcase C6 Appalachian at the 2021 Enactus World Cup this October.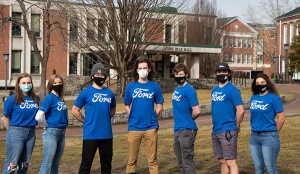 Tags: